Dr. Jamie Saliman, DVM
Veterinarian, Owner
Dr. Jamie Saliman went to Washington University in St. Louis for her undergraduate degree, receiving a BA in psychology with a minor in biology. While taking some time to prepare for vet school, she took a position with AmeriCorps working with at-risk youth in downtown Denver. Shortly thereafter, she attended Colorado State University, where she received her doctorate of veterinary medicine. After graduating in 2004 , Jamie did a one-year rotating internship and subsequently joined a small animal hospital where she practiced for 15 years.
Jamie's main interests are internal medicine, emergency and critical care, abdominal and cardiac ultrasound, wellness and geriatric medicine. "Animals are my passion. I feel extraordinarily fortunate to be able to spend my life caring for, and hopefully bettering the lives of, the very creatures that make me so happy."
Jamie lives in Denver with her Frenchie Monte and Cavalier Franny. She enjoys running, reading, hiking, and traveling, but most of all she enjoys spending time with her family.
Dr. Annie Lorenzen, DVM
Veterinarian
Dr. Annie Lorenzen received her undergraduate degree in Anthropology from The University of North Carolina at Chapel Hill. After undergrad, Dr. Annie spent time traveling and working in Southern Africa. She then moved to Columbus, Ohio to earn a Master's in public health with a specialization in zoonotic disease. Dr. Annie continued on and earned her doctorate in veterinary medicine from The Ohio State University.
Dr. Annie's interests include soft tissue surgery, ophthalmology, nutrition, dermatology, general medicine, and geriatric medicine.
Dr. Annie enjoys spending time with her husband and son. Together, they love hiking and cross country skiing with their two labradors Benny and June. Dr. Annie also spends her time snowboarding, running, and baking. Annie has been lucky to know and work with Jamie and Josh since 2018. She is beyond excited to be joining the team at Inspire Animal Hospital!
Dr. Brittany Haskins
Veterinarian
Dr. Brittany Haskins grew up in Massachusetts with the typical veterinarian backstory of deciding her occupation at 5 years old. She attended Brown University for her undergraduate degree in biochemistry. She then proceeded to Tufts University for her doctorate of veterinary medicine before moving to northern Virginia, where she practiced both mixed animal and then companion animal-exclusive veterinary medicine for 7 years.
Dr. Brittany's interests include a little bit of everything, although she has a special place in her heart for feline medicine and geriatric care. The most rewarding part of this career for her is the relationship with the family unit as a whole- animals and humans!
When not at work, Dr. Brittany spends her time chasing around her two toddlers, two dogs, and four cats with the help of her very patient husband. She is hoping to develop more actual hobbies once everyone is fully settled here in Colorado.
Dr. Katie MacMillan
Veterinarian
Dr. Katie MacMillan was born and raised in Littleton, Colorado. She received her undergraduate degree in biology from Lehigh University, her Master's degree in public health from George Washington University, and her doctorate in veterinary medicine from Colorado State University. After graduating in 2017, Katie worked in a small animal hospital where she first met fellow Inspire colleagues Jamie, Josh and Annie.
Katie's main interests in veterinary medicine include dentistry, abdominal ultrasound, acupuncture, physical therapy, and wellness medicine. She is passionate about her clients at Inspire Animal Hospital and loves working with such a great team.
When not working, Katie can be found spending time with her husband, son and their two labradors, Henry and Eleanor. They love spending time in the Colorado sunshine hiking, skiing and gardening.
Dr. Rachel Wolsky
Veterinarian
Dr. Rachel Wolsky was raised in Cleveland, Ohio. Her family moved to Highlands Ranch in 2011. After graduating high school in Denver, she attended the University of Colorado at Boulder and earned an undergraduate degree in evolutionary biology and ecology. Before leaving for veterinary school, Rachel worked as a full-time veterinary assistant for two years. She then traveled to Phoenix, AZ where she earned her doctorate in veterinary medicine from Midwestern University, graduating near the top of her class.
Dr. Rachel's interests include preventive care, dentistry, cytology, and general surgery. She couldn't be more excited to call Inspire Animal Hospital her home.
Dr. Rachel loves all things winter. Most weekends she's probably up in the mountains snowboarding with her family and friends. When she's not on the slopes, Dr. Rachel is cuddling her 3-year-old foster-fail Golden Retriever, Maxi.
Josh Saunders, CVT
Practice Manager, Owner
Josh grew up in southern New Hampshire, an hour outside of Boston and 45 minutes from the ocean.  Having originally attended Johnson State in Vermont for Business Management, he moved to Colorado for something different.  Josh attended Bel-Rea Institute, graduating in 2011 with highest honors.  He worked in shelter medicine while in school and then went on to work alongside Dr. Jamie for 9 years at a large 24/7 emergency, limited specialty, and general practice hospital, where he was the Lead CVT.  He then went on to be the Specialty Department  Manager at an emergency and specialty hospital, and quickly learned that he missed the relationships that are created with patients and their owners in general practice.  He enjoys emergency medicine and surgery, but most importantly, he genuinely loves providing compassionate patient care, and ensuring the comfort of all patients and their owners.
Josh lives in Littleton with his wife, three children, and three Great Danes.  He enjoys the outdoors, attending concerts and above all, spending time with his family.  Animals are Josh's passion, and he is excited to share his life long passion with the community of Parker and surrounding areas.
Amy, CVT
Certified Veterinary Technician
Amy grew up in California but has called Colorado home for the past 28 years. After working in a finance office for several years, she decided a desk job was not for her. Her love for animals guided her to Bel-Rea and she graduated in December 2006. Her career in veterinary medicine started in a mixed GP and ER practice where she had the privilege and honor to know and work with Dr. Jamie and Josh. Over the past 16 years she has worked extensively in dentistry, helped open a small GP practice in Golden, worked in a 24 hour emergency and specialty hospital, and coordinated canine blood donation programs at 2 locations. Her passions are providing exceptional patient care, doing everything possible to make visits for her patients as stress free as possible, easing pet owner concerns, educating clients, and being an advocate for all her furry friends who cannot speak for themselves. She especially has a soft spot in her heart for senior dogs. Believing in all that Dr. Jamie and Josh stand for and represent in the veterinary industry brought her back to working with them at Inspire and she is excited to be a part of this very special team.
Outside work, Amy is an avid yoga enthusiast, enjoys spending time with her daughter and her spouse, exploring the beautiful outdoors with her dog Jessie, and entertaining her cat, Blueberry.
Anne, RVT
Registered Veterinary Technician
Anne grew up in Missouri, but has called Colorado home for the last 3 years. After finishing a bachelor's degree in Biology and discovering that working in a lab was not for her, she started her career in veterinary medicine. Over the last 14 years, Anne has worked with exotics, managed GP practices, and
worked in emergency and critical care. Anne became a registered veterinary technician in CO in 2023.
Anne lives with her spouse, three cats (Proteus, Prometheus, and Branwen), and a giant Plecostomus named Titan. In her free time Anne enjoys gardening, exploring the parks of Colorado, and making jewelry.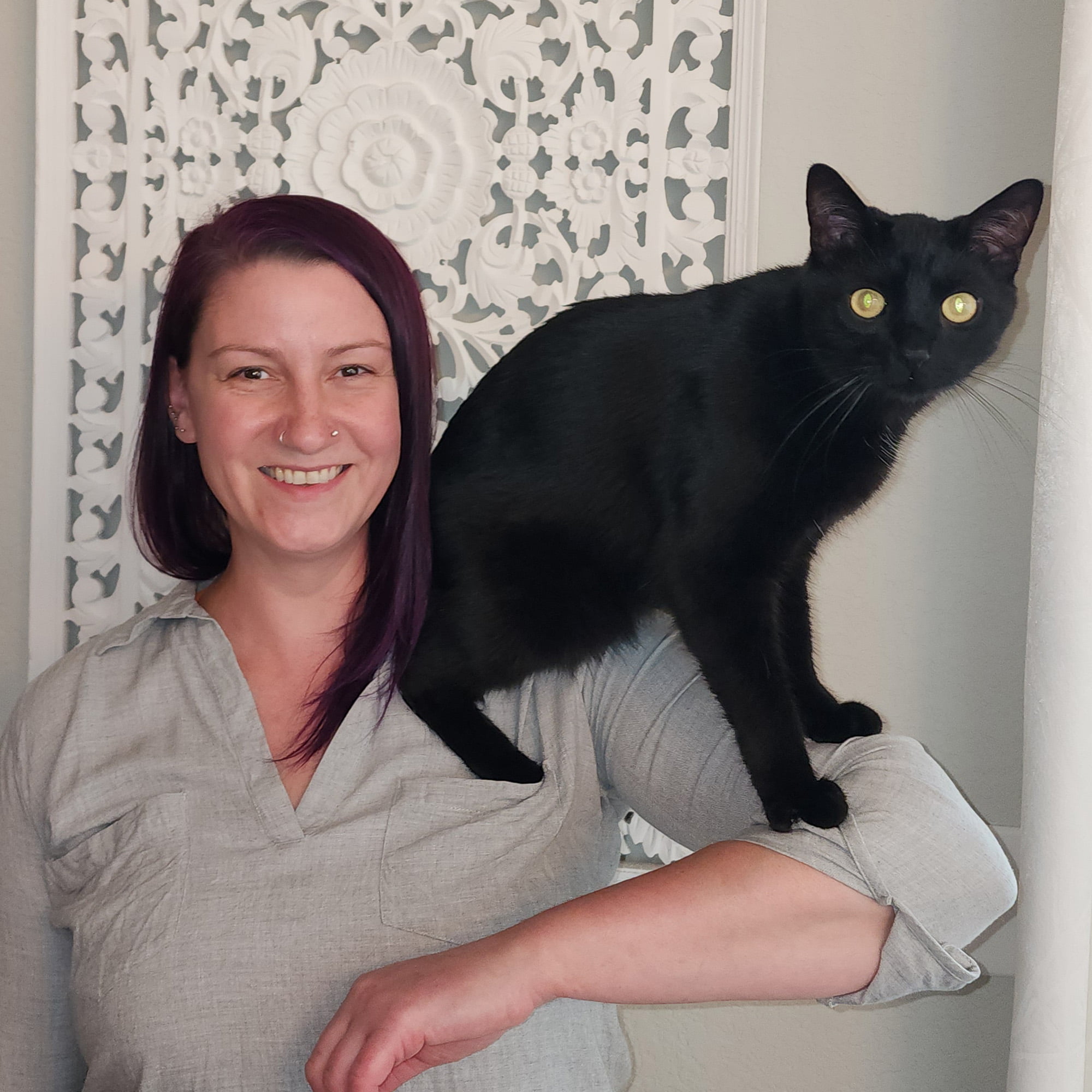 Nick, RVT
Registered Veterinary Technician
Nick attended the Community College of Denver studying for his undergraduate in microbiology and virology in preparation to attend vet school. In the hospital, Nick has a passion for emergency medicine and critical care, wound management, radiology and internal medicine. Upon completing vet school, Nick intends to complete a residency program in Emergency Medicine and Critical Care to become a boarded criticalist.
Outside of the hospital, Nick enjoys watching movies, board and video games, crafts and hiking/camping.
Kelsey
Technician Assistant
Kelsey grew up in a small town in Minnesota. After high school, she went on to obtain a master's degree in Creative Writing and became a full-time fantasy author. But her passion for animals never faded, and after moving to Colorado for new experiences, Kelsey was ecstatic to join the team at Inspire. She lives in Denver with her two dogs, a loud Miniature Aussie named August and a sweet pitbull, Jane. Kelsey is currently attending the Community College of Denver to become a Certified Veterinary Technician. During her spare time, she continues to write novels. Kelsey also enjoys exercising, traveling, and snowboarding (or she will, once she figures out how to stop falling).
She can't wait to meet your furry family members and make a difference in the community!
Kat
Technician Assistant
Kat is a Colorado native and absolutely loves the snow! After attending Bel-Rea, she went on to work in shelter medicine, general practice and eventually trying specialty medicine. After 10 years in the field, Kat decided to take a break and try being a pyrography artist and nanny for the last few years. Now, she is returning to the veterinary field and working towards becoming an RVT.
Kat shares a home with her husband, two dogs (Madeline and Ziggy) and their cat (Jaeger). Kat loves to create! Anything really, painting, crochet, embroidery and pyrography.
Brian
Technician Assistant
Brian was born in St. Louis, Missouri. Brian served in the military for ten years and was last stationed in Colorado. After getting out of the military Brian started going to nursing school. It wasn't until he had an emergency with his animal, did he realize the importance of animal health care. This is when he found his passion. He started his journey at PIMA Medical Institute in January 2023 and graduated with honors with a 4.0 in the Technician Assistant Program. Brian is currently going to school full-time at PIMA in the Veterinary Technician Program. He hopes to eventually work with large animals in the zoo and or in an educational setting. Brian's passions besides animals include sports, traveling, and music. He has traveled to 10 different countries. His goal is to see all the baseball stadiums as well, as he has been to 13 out of the 32 stadiums so far. He has been playing guitar for over twenty years and may find him playing at an open mic around town.
Amelia
Technician Assistant
Amelia is a Technician Assistant currently enrolled in Bel-Rea Institute to become an RVT. She has always had a passion for animals, wanting to work in the field since first grade when she was asked "what do you want to be when you grow up". She has a Havanese named Pico, and 2 leopard geckos, Lumi and Cj. In her free time, Amelia loves playing and teaching piano and singing. She is excited to start her journey with the Inspire team!
Monica
Customer Service Representative
Monica is a world traveler, having grownup in Washington, South Korea, Singapore, Taiwan, Oregon, and Texas, and has gotten their Bachelor of Arts in Asian Studies at a college in Illinois. Monica then came to Colorado and started out in the veterinary field as an assistant working in an exotic clinic and general practice for a few years. During their time, they came to realize they love working with clients just as much as with the patients, and so has joined Inspire as a CSR to further establish care and trust with pet owners.
They have a soft spot for small dogs, and have their own little Pomchi by the name of Maimai. Monica and Maimai will often go paddle boarding and hiking on many of Colorado's trails together. When not outside, they are often pursuing their hobbies of gardening, cooking, and drawing. Monica also continues on learning the Korean and Japanese language.
Melanie
Customer Service Representative
Melanie was born and raised in Morrison, Colorado. She loves the outdoors, hiking, fishing, and hunting with her father and son. After graduating from high school, she started working at a kennel and had a love and passion for animals. She worked there as a kennel manager and then was the Office Manager for 26 years. She lives in Morrison with her son Hunter, and their cat Fiona.
She is a busy mom with her son who enjoys Karate and he races a Jr. Dragster. She needed a change and new adventure and found Inspire Animal Hospital. Working alongside her sister and the warm loving team at Inspire. She loved the compassion that Josh and Jamie had for not only the furry friends, but the owners and the relationships that you build.
Nicole
Customer Service Representative
Nicole was born and raised in Morrison, Colorado. After High School, she worked for a few jobs before landing at a veterinary clinic/boarding/grooming facility working as a CSR. She loved it so much; she was there for almost 21 years. While there, she also became an Assistant Kennel Manager and eventually became an Office Manager. She was very blessed to have worked beside her little sister for those full 21 years – they made an amazing team and still do to this day.
She grew up with dogs, a cat, a few pocket pets, a lizard, and two horses. She has always had a love for animals. After working at the veterinary clinic for a couple of months as a CSR, she confirmed with herself that she was meant to work with animals because of the amazing relationships she was building with the animals and their families, and how much that bond meant to her. She realized animals play such an important role in human lives. They provide us with so much in so many ways and ask for so little in return – she wanted to give back by helping to educate their owners on how the medical staff could provide good medicine to their four-legged family members to help them live their best, healthy lives and taking care of them while their families were away.
Given a few changes with the veterinary clinic she previously worked for, she decided she needed a change. With the help and encouragement of a few amazing people, she found Inspire Animal Hospital. She was a little apprehensive about taking the job at Inspire Animal Hospital only because she had been with the previous veterinary clinic for so long, she didn't know anything else. However, by the end of her first week, she knew she had made the right decision. Josh and Dr. Jamie Saliman are wonderful people to work for – their level of knowledge and compassion for the animals, their owners, and the staff are astounding.
Nicole lives in Littleton with her husband, crazy but very loving Labrador, Truex, and her one cuddly cat, Roush. She and her husband enjoy spending time with their pets, their families, ATVing, boating, hiking, and kayaking. They also both share a love for wildlife – one of their favorite places to go is Yellowstone. Nicole is very excited to be a part of the team of Inspire Animal Hospital.
Charlize
Customer Service Representative
Charlize was born and raised in colorful Colorado. She had all sorts of animals growing up from bunnies and guinea pigs, all the way to her French Bulldog, Daisy. She moved to Texas when she was 16 to finish out high school. Texas was her introduction to the world of cats. She got her first cat in 2019 named Luna. After about 4 years in Texas she knew Colorado was home.
Charlize knew that bringing 100% to the customers was important to her. Working in retail fresh out of high school, retail was not for her. She has always wanted to work in an office for most of her life. The ideal situation was working in an office at an animal clinic or hospital. This is where Inspire Animal Hospital came into her life. She loves how caring the team is and is very passionate about what they are doing for the animals. She is so happy to come to work everyday.
Charlize currently lives with her boyfriend, 2 dogs (Daisy, Jazzie) and her 2 cats (Luna and Rumple). In her free time, she spends time with her animals and jams to music. Charlize is very excited to experience new journeys with the Inspire team.